Brixtongue is an established performance poetry night which takes place at Brixton Art Gallery every other month on the second Saturday.
The next Brixtongue takes place on Saturday 8th October. Doors open at 8 pm, performance begins at 8.30 pm, and admission is £6/5.
Spoken word artist, singer, poet, musician, or rapper? To perform at Brixtongue, e mail your details to brixart@brixtonartgallery.co.uk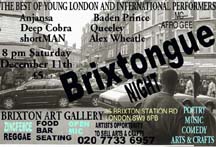 For over three years Brixtongue has supported a talented and committed group of young local performers, offering a platform from which their talents are honed and showcased before audiences of local and international visitors. Many Brixtongue poets have gone on to make their name on the London poetry scene and promote their own venues. Brixtongue has been broadcast on internet radio on three occasions and performers have been filmed and interviewed for an American documentary.

Brixtongue performers have conducted poetry workshops in local schools on such themes as Diversity, Aiming Higher, and Black History.

We believe that the performing talent showcased and nurtured by ŽBrixtongue' is without equal in the United Kingdom. A young, urban and multiracial generation has found its voice through Brixtongue and before long many of our young performers will be nationally known writers, performers and musicians.

In May, the gallery hosted ŽFreestyle', a showcase for young female poets, and in July ŽMen themes as Celebrating Of Wordz', reflecting the male and female halves of our Brixtongue poets. In October, Brixton Art Gallery provided the London venue for the ŽDutch Connection' tour of Dutch and UK poets, proceeds from which went to the Survivors International mental health charity.