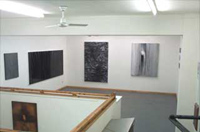 Brixton Art Gallery has its own annual programme of six shows, funded and curated by ourselves with associated events and education work with schools.
However, time is set aside between programmed shows in which guest curators and artists can hire our space for hosted shows. Hosted shows are a wonderful opportunity to present individual or group work in a spacious setting at the heart of one of London's most vibrant areas. Where We Are for more details.
Guest Curators
Brixton Art Gallery welcomes exhibition proposals from guest curators. Guest curators must bring their own funding package for hosted exhibitions at Brixton Art Gallery.
Hosted Shows For Individual Artists
We offer the opportunity for individual artists to put on their own show with support from the gallery to access publicity.
Costs
Individual Artists: £450 per week per floor
Curators and Groups: £1,400 per week for both floors
Details of Brixton Art Gallery's Artist Membership Scheme
Booking studio space at Brixton Art Gallery