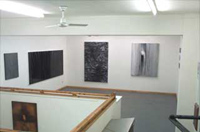 Brixton is changing. Brixton is now a landmark for urban arts and culture. Brixton is emerging as a cultural magnet for national and international visitors.
We are excited about Brixton and have been at the heart of its renaissance for the 21 years of our existence as a gallery. We offer a broad and exciting range of contemporary art which reaches out to all sections of Brixtonís diverse and cosmopolitan population. We also engage with the local community through our artists and poets in schools programme, through Brixtongue, our performance poetry night, and through our gallery programme of events and seminars.
Our aim is twofold. To bring the international arts community to this vibrant multicultural area. And to showcase the dynamism and energy of Brixton culture to the international arts community.
Who we are: the history of Brixton Art Gallery
What we do: an online tour of our exhibitions for 2004
Where we are: local map, the gallery space